Introduction:

We believe this is the most cost effective electronic textbook style database available that adequately summarizes medical information in a concise and easy to read format. This book is directed at practicing clinicians (specifically Family Medicine and Internal Medicine). It is also useful to residents, nurse practitioners, physician assistants and medical students doing clinical rotations. It includes differential diagnosis, pathophysiology, clinical pearls, physical diagnostic findings as well explicit details on the evaluation and treatment of a multitude of medical conditions. One can quickly navigate to the diagnosis and/or treatment section for quick recommendations on the go. The Clinical Medicine Series is a set of individual textbooks that cover nearly all medical specialties. The Clinical Medicine Consult is an all-inclusive text that includes all of the individual texts a chapters in one highly interlinked book.



Supporting: These texts can be read on just about any electronic device. The exact same file can be read on any Palm, Pocket PC, iPhone / iPad (iSilo version only), Blackberry, Symbian (Nokia, Sony Ericsson and Psion), Smartphones, dedicated ePaper devices (The Kindle2, Kindle Fire, Cybook, iRex Digital Reader, iLiad, Hanlin, etc). These books can also be read (using the Mobipocket version) on most any other PDA including your desktop or laptop. Additionally, there are iSilo versions for all of the Android OS platforms (smartphones and tablets).....see bottom of page for additional details.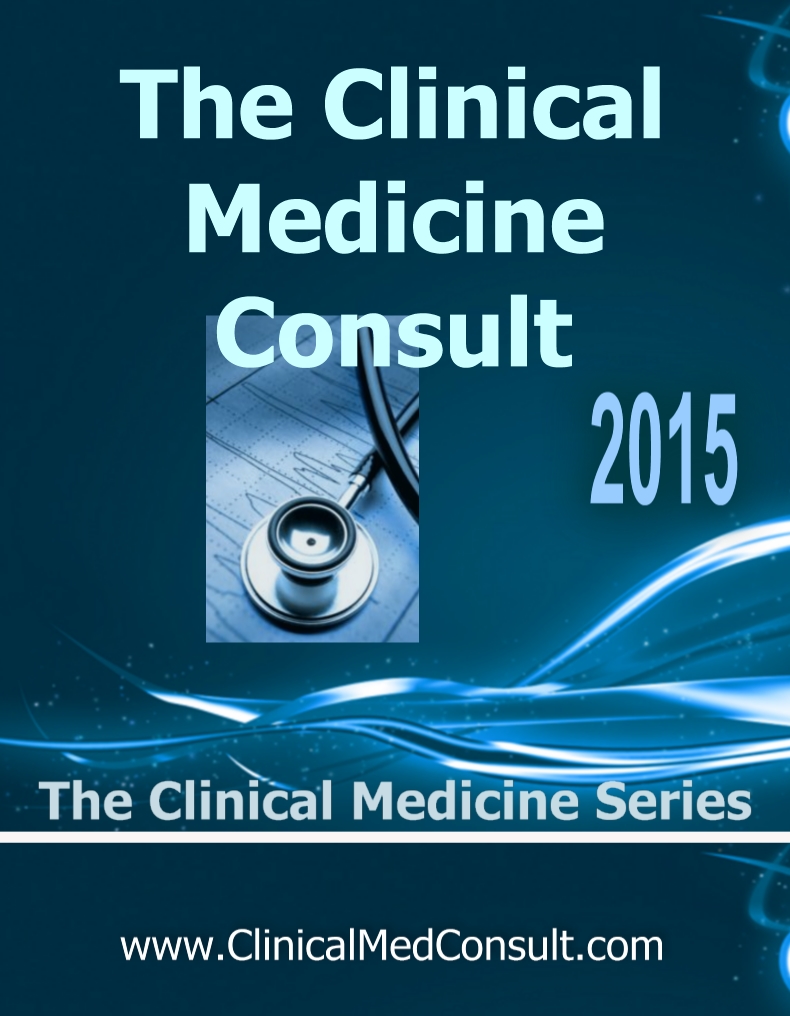 ★★★★ The Clinical Medicine Consult: ★★★★
A complete medical textbook in the palm of your hand that is rapidly accessible and packed with clinically relevant, evidence based information.

★ Fully indexed with over 20,000 clinical topics for rapid reference.
★ Contains detailed drug prescribing pearls and over 15,400 medical terms and conditions.
★ The text has multiple cross references and hyperlinks for fast navigation.
★ Includes all the current Clinical Medical Series titles!
★ Currently the total illustrations / diagrams / color photos stands at 4,640 total (vs 4,185 in 8/12, 3,500 in 11/11, 2,820 in 11/10, 1,450 in 5/10, 421 in 2/10 and 246 in 1/09).

★ With the 11/13 release, we expanded the alphabetized index hyperlinks from 8,300 links to over 27,075 terms, medicines and medical conditions for faster navigation.
★ No other text on the market provides such a collection of succinct and clinically relevant material that can be accessed at the bedside.
★ Free quarterly updates (iSilo version only).
★ The space it will take up on your PDA will be 70 MB (can run on memory card or memory stick and expansion chips, most start at sizes of 8,000 MB = 8GB). Once purchased, you own a an non-expiring copy of the database that you can utilize on just about any device you wish (see below).

★ Info on the update that was been released 24 Aug 2016: There were countless updated topics in each and every chapter. The current file size of the CMC 2016v4 is 71,940 kb, the last quarterly versions were sized at: 70,951, 70,340, 66,894, 64,881, 62378, 60,458, 58,940, 54,721, 50,147, 48,276, 43,584, 41,818, 35,236, 30,243, 28,800, 26,946, 24,114 kb, 23,164 kb, 21,901 kb, 17,767 kb, 16,918 kb, 16,516, 15,858, 15,176, 14,580, 13,980, 12,950, 12,276, 11,715, 11,097, 10,752, 10,249, 9,769, 9,298, 8,977, 8,004, 6,805 and 5,364kb....tons more information for you to use at your fingertips and even more in the very near future. Free quarterly updates with the iSilo version.
★ Over 250 Step-by-Step Procedures Included:

Allergy Skin Testing, Central lines, Pericardiocentesis, Treadmill Stress Test, Cardioversion, Biological & Chemical Weapons, Nail Wedge Resection, Subungual Splinter, Canalith Repositioning, Paracentesis, Inguinal Hernia Reduction, Evacuation of Thrombosed Hemorrhoid, Flex Sig, Peripheral Smears, BM biopsy, Intubation, Vascular Access, PPD, Arterial Blood Gas, Carpal Tunnel Injection: Peritonsillar Abscess, Schiotz Tonometry, Slit Lamp, Refraction, Maddox Rod Test, Lensometer, Chalazion, Enteral Feeding, NGT, Ganglion Cyst, De Quervain's Wrist Injection, Joint Aspiration & Injection, Compartment Pressure Measuring, Extensor Tendon Repair, Subacromial Injection, Olecranon Bursa Aspiration, Elbow Dislocation, Nursemaids Elbow, Costochondritis, Knee Aspiration: Dislocated Knee: Shoulder Reduction Techniques: Intercostal Anesthesia: Chest Tube: Peak Flow, Thoracentesis, Lumbar Puncture, Mental Status Exam, Peritoneal Lavage, Epistaxis, Oropharyngeal Fb, Esophageal Fb, Swallowed Fb, Rectal & Vaginal Fb, Fish Hooks, Ring Removal, Ear Fb, Nasal Fb, Sexual Assault Eval, Heat Stroke, Toxic Exposure, Acute Urinary Retention, Priapism: Urinalysis & Sediment, Grams Stain: Blood Cx, Acid Fast Stain: Wright Stain: Tzanck Prep: Infertility Eval, FNA Breast, FNA Thyroid: Dislocation: Plantar Fasciitis, Penile Nerve Block, Paraphimosis Reduction, Terminal Pt & Withdrawing Care, Trigger Point Injections, Dislocated Mandible, Lip Laceration: Instruments and Sutures: Basic Wound Care: Diagnostic Dermatology: Cryosurgery, Thrombolytics in AMI, ECG Interpretation, Pulse Pressure, Valsalva, HJR, JVD, Varicose Vein Inj, Liver Bx, Kidney Bx, Dialysis, Endometrial Bx...many more.

There are four versions of the text, one for iSilo (.pdb), one for MobiPocket/Kindle (.prc), one for epub (world standard e-book file) and one for adobe (.pdf).
1. iSilo version: The "iSilo" reader (www.isilo.com) is not free ($9.99), it is a separate purchase, they have a version for most any computing device. You can also use "iSilo for Windows" to read the text on your desktop. This is our most popular version as is the best reader on the market. We generally offer a discounts for renewals on multi-year subscriptions.

iOs: https://itunes.apple.com/us/app/isilo/id284979163?mt=8
Android Os: https://play.google.com/store/apps/details?id=com.dcco.app.iSilo

2. Mobipocket Reader Version (Free reader): for any PDA (palm or PPC), Smartphone and Mobipocket Reader (www.mobipocket.com) for PC (desktop). This reader can be downloaded from almost any PDA site.
3. EPUB eBook format: iPhones and iPads all come with native epub readers. There are numerous epub readers (free and paid) that will work on most any device, including android os and mac or windows desptop/laptops.
4. PDF:
for

adobe readers

etc.

Works on almost any device but due to rigid formatting unique

to the

screen size, it may not be optimal for some small devices with small screens.
Available individual titles:
Clinical Endocrinology
Clinical Neurology
Clinical Orthopedics
Clinical Nephrology
Clinical Dermatology
Clinical Gastroenterology
Clinical ENT
Clinical Psychiatry
Clinical Urology

Clinical Infectious Disease
Clinical Women's Health
Clinical Hem-Onc
Clinical Geriatrics
Clinical Rheumatology
Clinical Pulmonology
Clinical Allergy
Clinical Pediatrics

Clinical Cardiology
Clinical Ophthalmology
Alternative-Ethics-Stats (Compendium)
Clinical Trauma & Toxicology
Clinical ICU-Nutrition
Clinical Pain Management
Travel Medicine

Procedures in Medicine
Sports Medicine
Terrorism: A Medical Response
Wilderness Medicine
Survival Medicine
Preventive Medicine
Surgical Pearls

Disaster Medicine

The Clinical Medicine Consult (all of the above titles in one highly integrated text)

Answers to Common Questions About Which Devices/Readers can be used and for which versions:

As you already know, it's not simply just palm or pocket pc anymore. There are getting to be a lot of different devices out there so here is the updated list of compatible hardware for The Clinical Medicine Consult files. First off, there are three versions of the text. One version for the iSilo Reader (.pdb, obtain reader via www.iSilo.com), adobe (.pdf) and one is the MobiPocket version (.prc, obtain the Mobipocket reader via http://www.mobipocket.com/en/DownloadSoft/default.asp, free, this version also works with about a dozen other readers). Neither reader will read a file from the other version (demo or full)(Pocket PC or palm OS) and both are separate purchases. With the PDF version, there were multiple options for handheld and desktops, this version is included for free with the purchase of the MobiPocket version.
The iSilo, pdf and Mobipocket readers all allow you the read the exact same file on most ANY platform (Palm OS, Pocket PC OS, Windows [notebook or desktops], Windows Mobile Smartphone,Windows CE Handheld PC, Symbian (Nokia, Sony Ericsson and Psion) or Blackberry.

iPhone and iPad users: Currently both an iSilo version (.pdb) and ebub version that runs directly on iPhones.
FREE Readers: Apabi Reader. Blio. Bluefire Reader. DL Reader. iBooks. Kobo eBooks. Marvin. MegaReader. ShuBook. Stanza. uBooks. Firefox Epub add-on.
For download links: en.wikipedia.org "See Comparison of iOS e-book reader software".
Not Free: ($2-$5): eBookMobi. i2Reader. MegaReader. Another iPad app, called "Bookshelf", will read mobi .prc files on the iPad.
iPhone and iPad readers work that can also use .pdf eBook formats, but not an ideal option.

Kindle (Amazon): The Kindle for Mac and Kindle for PC applications do let you add user files, and the Clinical Medicine Consult (mobi/.prc) with no problem. Kindle 2 handles the mobi/.prc with no problem at all as well.
Android OS (Droid, Google, Kindle, Nexus etc): You can use the Aldiko and FBReader for the mobi/.prc versions or use the iSilo reader for the .pdb version (best choice).
Nook eBook Reader: Free. Formats supported: ePub, mobi/.prc.Borders eBook Reader: Free. Formats supported: ePub, mobi/.prc. Online catalogs via Borders/Waldenbooks.
Aldiko Book Reader: Free with $2.99 "premium" edition available. Formats supported: ePub. Online catalogs via feedbooks, O'Reilly, All Romance, SmashwordsFBReader: Free. Formats supported: ePub, oeb, fb2(.zip), mobi/.prc.
iSilo versions (.pdb): In addtion to the listed devices above, it also runs on the Android platform (supporting the T-Mobile G1/HTC Dream), and S60 5th Edition platform (supporting the Nokia XpressMusic 5800).